We're delighted to be working in collaboration on a new project with school children from Carlisle's James Rennie School.
The school, which educates pupils aged 3 to 19 with severe or profound learning needs, approached us to help set up their own bank, with pupils taking on the role of cashiers.
During May and June, we've been supporting pupils from the school's Hedgehog and Puffins classes (every class is named after an animal or a colour) to help bring their idea to life. The bank will be run by the pupils themselves and used by all 17 classes at the school to deposit and withdraw money for snacks and cooking.
As well as learning how to run the bank, they also designed their own logo and developed their own branding - The James Rennie Piggy Bank. This branding was then incorporated into a special, movable bank counter, built very kindly for the school by local firm Northern Construction.
In preparation for the launch of the bank, a group of children enjoyed a day working in our Head Office Boardroom with Andrew Gordon (Head of Relationships) and Becky Towns (Brand & Communications Officer).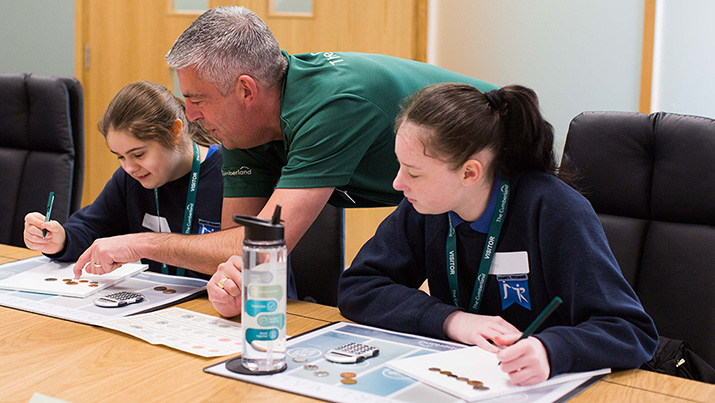 They practised their counting skills and learned about handling money. Andrew and Becky also ran through some of the basics of customer service with the pupils, role-playing both cashiers and customers and followed this up with a second session back at the school.
Oliver Wilson, Assistant Headteacher at James Rennie, said the objective was to make a positive difference to the pupils, specifically working on numeracy and interaction skills and some pupils' physicality. He said: "A number of our students find it quite a challenge to do peer-to-peer communication. The environment we created for the bank enables them to do just that. We are seeing students who we wouldn't usually see engaged working with each other doing role plays. They learn about social interaction, facial expressions, tone of voice and all this is really invaluable for them."
Andrew, said, "It's been such a great experience working with the pupils on this project. They were such fun, uplifting days. The children brought so much enthusiasm to the sessions. It's rewarding to see that they've got so much from taking part, and that they have continued to develop the bank at the school.
Oliver continued, "It was an experience for the children just to be able to go to the real head office of a major company" adding: "They came back with massive smiles on their faces and were talking about it for days afterwards. Seeing the faces and some of the engagement of pupils has been fantastic."