Chartered Surveyor Jamie Cowan and his wife Laura own seven holiday properties in Caerlaverock, Dumfries and Galloway, an area popular with nature-lovers who visit the nearby wetlands and nature reserve.
As for many hospitality businesses, it's been a challenging time for Jamie and Laura throughout 2020 but the business has shown remarkable resilience.
The challenge of the unexpected
During the lockdown, like many businesses, Caerlaverock Cottages was hit hard. "We had £40-50,000 worth of bookings for the year, which were wiped out overnight. I honestly didn't think we were going to survive. Aside from the mortgages we had electricity, oil, and WiFi bills that still needed to be paid.
"We were so lucky that The Cumberland agreed a six-month mortgage holiday to help us through that time."
A positive revival from COVID-19
Since the initial lockdown restrictions began to ease, Jamie has seen a complete turnaround in his business as more holidaymakers than ever are choosing a 'staycation'.
Over summer, Jamie told us, "All seven properties are fully booked through July, August and September and in the last three weeks I've taken 52 bookings, taking us into October and November.
"This is a very strong indication that people want to holiday in the UK because there is too much risk associated with travelling abroad this year. Also, I think people really like the idea of supporting local economies and communities."
More recently, Jamie has experienced more cancellations due to regional restrictions in Scotland and the national lockdown in England – a trend that's been experienced across the hospitality sector.
However, the strong demand for staycations endures, and those who are still able to travel are very quickly replacing the cancelled bookings. Optimism among UK holiday-makers appears to be high too, with bookings for next year still coming in.
A destination written in his DNA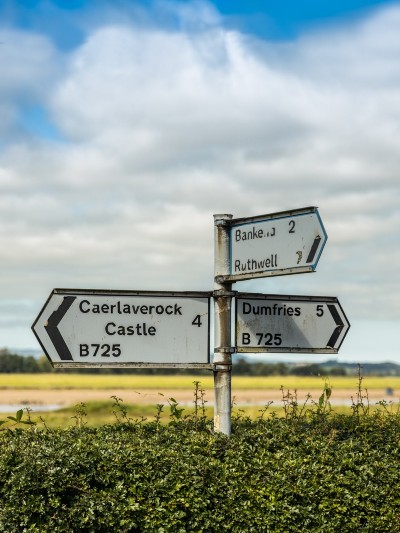 Managing holiday lettings is in Jamie's blood. His father worked as a gamekeeper on the Caerlaverock Estate, where his mother managed a holiday cottage in the grounds, involving the whole family in the job.
Inheriting the family cottage from their parents, Jamie and his brother renovated it to become their first holiday let. "It enabled us to keep the house, with all its memories, which was great."
When his brother decided to live there full time, Jamie had the means to buy another property which was in dire need of extensive renovation.
A cottage-turned-garage in the grounds was also renovated and converted back into a dwelling.
Over the last 10 years, the portfolio has grown to 7 charming holiday cottages, and Jamie tells us that building and running his holiday let business has been a real joy.
Passionate about customers
Jamie and Laura are passionate about their business and have invested not just financially but have put a huge amount of energy and dedication into building the business. So earning great feedback from customers is important to the couple.
"We have one customer who loves all our properties, although he has his favourite. He says that every time he returns, we improve. Comments like that are priceless." Jamie adds, "The first guests who came to my first property still visit us, around six times a year."
Importance of supporting local communities
Being part of the local business network is important to Jamie, who takes his responsibility to support other local businesses very seriously.
During lockdown, Jamie and Laura had the opportunity to give back to the local community in another way and the couple offered a local NHS worker the use of one of the cottages free of charge so that she did not have to return home each night, potentially putting her family at risk from the virus.
A family affair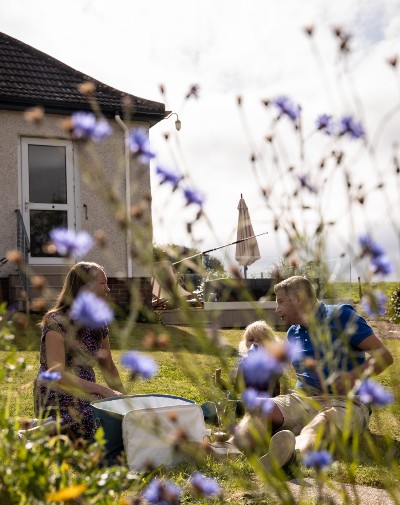 Maintaining the properties is a family affair, just as it was when Jamie was a boy helping his parents with the Caerlaverock Estate cottage. Laura oversees marketing while Jamie prefers the outdoor jobs.
"In my role as a chartered surveyor, I work a nine-day fortnight, so every other Friday I take the kids and a picnic and we tend to the gardens of our properties. My wife always asks why we're gone so long, but we always have such a fun time and often end up chatting to the neighbours, who are friends too. We love being out in nature and Caerlaverock is the perfect place for that."
Advice from an experienced holiday let owner
Many lessons have been learned along the way, and Jamie freely admits that while he renovated his first holiday cottage "on a shoestring" he has since gone back and fully renovated the property again.
"Furnish your holiday lets as well as you possibly can," he advises, "Buy the very best you can afford, because people are looking for quality. And maintain it to a high standard, because people won't come if you don't."
Jamie is convinced that sourcing a mortgage from a specialist lender like The Cumberland is essential.
"I go to The Cumberland whenever I need advice on funding. It's not like one of the big banks where you get through to a call centre and you're on hold for ages. I can speak to my own advisor who knows me and my business personally."
What's Next?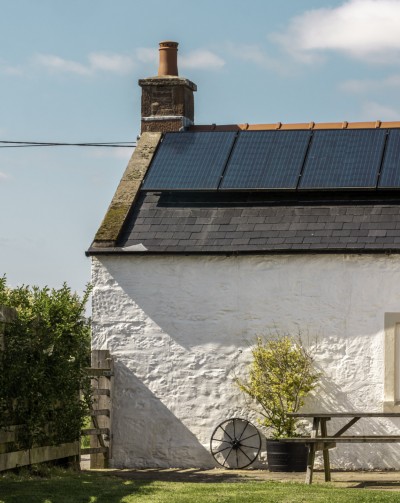 Unperturbed by the risk of further COVID-19 lockdowns, Jamie feels confident that he would buy an eighth if a suitable property became available. "The last property we bought was in 2018 and I think we manage seven as easily as when we managed one."
Without a doubt, COVID-19 has had an enormous negative impact on the UK economy, but as a small business owner with a growing holiday lettings portfolio, Jamie is optimistic about its recovery.
"I think the future is extremely bright for the UK holiday lettings sector," he says.
"Even in bad times, people want to go on holiday and there'll always be a market for quality holiday cottages in the UK."
Watch Jamie and Laura's interview to hear more about their 10-year experience running a holiday let business, where they cover:
What they enjoy about running a holiday let business
Jamie's experience with running buy-to-let properties vs holiday lets
Being hands-on with property management
Tips for those starting out with their first holiday let property
Their outlook for the future of their holiday let business and the UK staycation market
Thinking of investing in a holiday let?
Find out more about our
holiday let mortgages >