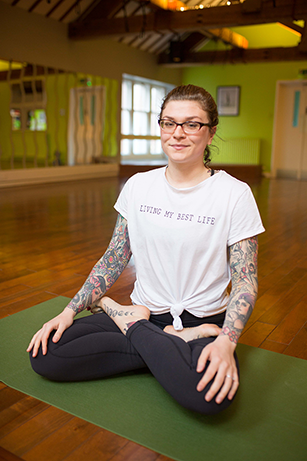 Emma Vazquez is truly living her best life, recognised as one of the country's leading yoga tutors after taking the plunge six years ago and popping into her local beginner's class as a shy novice.
Yoga has transformed Emma's well-being, her physical and mental strength, and she now helps hundreds of others to see and feel the benefits, and has really made a difference to her life.
Emma, 25, lives in Carlisle with her fiancé Martin (who she met through Yoga), and now runs yoga classes for others, based at the city's award-winning yoga studio.
Emma shared her story with us, as she looks to inspire others to improve their well-being through yoga.
How did you start your journey?
"I've been practicing since 2012, but my first year with yoga was very gentle, I hid away from anything dynamic.
"People that know me might be surprised to know that I actually went home crying after my first Ashtanga (a specific type of yoga) class!
"I now teach Ashtanga, and it is a real passion of mine.
"At first I disliked the Ashtanga class, I couldn't keep up and it felt awful not being able to keep up. When you realise that it's your ego holding you back, you can move away from judgement and expectations you put on yourself.
"An Ashtanga class is 90 minutes and I pushed myself through it. I kept myself together and have never held out for so long. I felt so strong after I finished it.
"I started teaching three years ago and now I'm recognised as one of the leading teachers in my field. I have trained with Manju Pattabhi Jois who is the eldest son of Ashtanga yoga guru Pattabhi Jois. I'm the director of Cumbria's Ashtanga Mysore yoga programme."
"I had a lower self esteem. I tried gym fitness classes but I was very shy and didn't want to be stared at in the gym. One day I just woke up and went along to The Yoga Studio Carlisle and took a membership out, it was one of the best decisions I ever made."
What have you benefited from the most?
"I'm much stronger – mentally and physically, my health and well-being have improved dramatically.
"I'm a much happier person and more relaxed, I really don't worry as much. My friends and family have seen a massive difference in me. It becomes nicer when you don't worry about the mundane stuff, I don't feel rubbish about myself anymore.
"The main potential benefit is emotional and mental well-being, but also physical strength.
"I worked at the hospital, with young adults with challenging behaviour; it was long hours, dealing with stressful behaviour. I miss caring for people but I suppose I am in a different way now.
"I now feel strong and empowered enough to make choices for me and put my own happiness first."
What do people need to start yoga?
"All you need to be able to do when you start is breathe, you'll learn everything else along the way.
"Coming through the door to your first class, that's the hardest part of yoga."
Why should I start yoga?
"With yoga you learn how to relax but also how to de-stress.
"Traditionally, yoga was a therapeutic practice that could help you move away from stress. In the western world there is a lot of stress, yoga makes you realise you are fine where you are in life.
"There are so many health benefits to practicing yoga, it can help improve conditions like asthma, diabetes and back pain."
Is yoga just for certain types of people?
"People can get hung up on body shape or size, and might have a preconceived idea of a 'yoga body', but that is a total misconception.
"With yoga, there are no judgements or expectations on what you should be able to do.
"We really recommend that you go with the flow, which does sound very hippy dippy but just means relax and don't worry.
"People worry so much about yoga but it's easier than you think. People believe there'll be a class full of experts who can all do the most advanced poses, but we encourage you to listen to your body."
How much of a Yogi are you?
"I practice 6 days a week and we have a yoga room in our house too so that we can practice at home, I practice for up to 2 hours a day and I'm extremely dedicated to my practice.
"It's much better to practice once or twice a week consistently rather than trying to practice badly every single day.
"In terms of my teaching I'm really hands on with my approach, and I adjust people throughout my classes if they need help. Sometimes you need to be helped into the pose to make sure you're practicing correctly."
Is yoga good for your social life?
"Everyone that comes to studio can make friends with each other. We've built a great community, the students socialise outside of classes with each other.
"Different aged people from all over Cumbria come to our classes, I have students travel to me from all over Cumbria to attend my Ashtanga yoga classes, and that's because we're one of the top 25 yoga studios in the UK.
"My biggest advice is to just do it – your first class will be relaxing, there is no pressure, and it's a really supportive environment."
Fancy winning a free 30 day yoga membership?
We're giving away 5 free 30 day memberships to The Yoga Studio Carlisle to make it as easy as possible to start your yoga journey. Find out more on how to enter our competition.