Supporting our Customers, our Communities and our People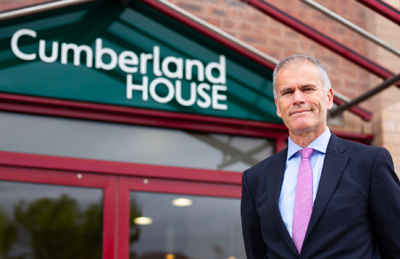 As we move past what we hope is the peak phase of COVID-19, and we get used to a very different way of living, we remain committed to serving our customers, communities and colleagues.
We've overcome some enormous challenges in our 170 years. Even though coronavirus has presented us with our biggest challenge in generations, I remain confident that we will emerge from this, stronger and wiser.
Our Priorities
Since the lockdown was announced on 23 March we've been relentlessly focused on two priorities:
Continuing the provision of essential services to the regions and customers we serve
Supporting all our customers facing financial difficulties due to COVID-19
Providing banking services was deemed an essential service by the Government, and our team has worked tirelessly during this crisis to make sure we deliver these priorities.
I am exceptionally proud of my colleague's efforts to keep our branches safe and clean for our customers. I'd also like to recognise the staggering achievement of our operations and IT teams, who enabled more than 75% of our head office team to work from home in a matter of days, as well as enhancing our webchat facility to provide easier and quicker ways for our customers to get in touch with us.
Our Customer Care team, who have remained working in new, socially distant environments, have also performed brilliantly, handling a huge increase in calls in the first few weeks of the crisis, as well as a five-fold increase in webchat enquiries.
Together, their hard work and commitment has allowed us to continue to support our customers throughout this period.
The crisis has had a deep and significant impact on the finances of many of our customers, as well as the wider regional economy. As a result, we have had thousands of our customers and businesses contact us for help and advice in the last 6 weeks, the vast majority of whom we were able to respond to immediately.
To support these customers through this difficult time we have put in place a number of initiatives. These include mortgage payment holidays, additional overdrafts and mortgage offer extensions. To date we have been able to help over 1,500 residential mortgage borrowers with a payment holiday, which represents around 10% of our mortgage customers, and more than 1,000 local businesses have also benefitted from this support.
It is a sad fact that many more people and businesses will be impacted financially before this crisis ends. If you are experiencing or anticipating financial difficulties, please don't hesitate to get in touch with us to see how we can support you during this time.
Reopening Our Branches
As the peak of the pandemic passes, I'm pleased to see more of our colleagues return to work. Keeping our colleagues safe remains absolutely paramount to us and we have taken a range of measures to make sure our branches are as safe as possible to work in. These have included the installation of protective screens, additional hygiene and cleaning measures and social distancing arrangements.
We have now reopened virtually all of our branches for at least one day a week, re-establishing those essential services in all the towns and villages we operate in. However, please only visit them if your transaction is essential.
Our frontline teams have been amazing throughout this crisis, as have the various support teams around the business who have enabled them to carry on working safely, and I sincerely thank them all for their commitment and support in continuing to provide the best experience possible for our customers.
Moving Forward
As we head into this new phase we remain committed to two simple principles:
To protect the health and well being of our customers and our people
To provide the best level of customer experience possible in the circumstances
Brighter Together
These are trying and uncertain times, and while we hopefully have the worst of the health crisis behind us there will undoubtedly be many challenges ahead.
Our region has been through many difficulties before. Every time, the people, businesses and communities have come together to help and support each other and make the positive difference needed to get us through.
I believe this will be true of the current COVID-19 crisis – as a community and region, we will continue to unite in the face of difficulty, making us stronger and brighter together.
Des Moore
Chief Executive